Our top 6 reasons why Microgreens are so Mighty!
Who says you can't grow all year round in the UK? You can with our microfarm kits - even in the depths of Winter when we have shorter days and much colder nights it's possible!
Even if you have minimal space (like me) you can grow these mighty greens. Get creative using a shelf or on a windowsill!
We're here to prove that growing your own nutritious food is easy, even without a garden. Teeny Greenies thrive on windowsills, shelves, and even on top of the fridge. As long as have some light they will grow!
4
BOOST YOUR HEALTH BENEFITS
Containing 40X the nutrients than the mature plants, Microgreens are a great source of many nutrients we need.
They all include beta carotene, carotenoids, lutein, zeathanthin, vitamin C, vitamin K , calcium , polyphenols (also called Antioxidants). 
Ready to eat within 7-10 days - add them to salads, smoothies, sprinkle them over soups, stir them into stews and add them to stir-fries, curries, risottos, pasta bakes, and casseroles – the sky's the limit!
6
ENHANCE YOUR WELL-BEING
Research suggests being in the general proximity of plants is beneficial for our mental health. Growing your own greens gives you something tangible to focus on. Plants give you the opportunity to be creative and help reduce stress.
ETHICS & SUSTAINABILITY
As the owner and founder of Teeny Greeny, I am committed to working with people and companies who align with my own beliefs. We believe in responsible decision-making and do our best to operate in an ethical and sustainable fashion. We have a commitment to fair trade and try to source local produce whenever possible and our products are always 100% Plastic Free.
100% Plastic Free

The Teeny Greeny Dream Team have gone above and beyond to make sure all of our products make as little impact on the planet, its a small effort for a big cause.

100% Organic

Soil Association accredited: the primary charity and organic certification body. We are proud and privileged to be working with these guys, what they say, goes.  

Defra regulated

DEFRA is a government organisation dedicated to protecting the environment. These guys regulate my business, and we are 100% DEFRA-compliant.

1% for the Planet

Teeny Greeny is a member of the 1% for the Planet collective. "The intent of 1% for the Planet is to help fund these diverse environmental organizations so that collectively they can be a more powerful source in solving the world's problems." 

 — Yvon Chouinard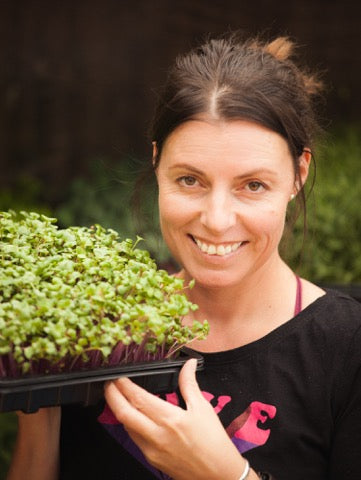 At our roots
Hello and welcome to Teeny Greeny's wonderland of Microgreen grow kits. 
I'm Alice, as the creative behind Teeny Greeny and I've been on a crusade to make growing Microgreens at home as easy as possible for everyone - If I can grow these teeny but mighty greens - then so can you!
Do you want to grow your own greens all year round……but have little space or find everything you plant struggles to survive or even that you just don't have the time? 
Well you've found your tribe - utilising my own experience as an urban farmer, mixing it up with a passion for problem solving and a deep rooted belief that one seed at a time together we can grow a healthier planet alongside make a difference in supporting some great causes. 
So let's start sowing the seeds and grow a greener future together. 
 Alice 
(Grower, Owner & Founder at Teeny Greeny)
Answers to our most FAQs
What are Microgreens?

Microgreens are the young seedlings of newly germinated, edible plants, such as broccoli, red cabbage and radish. These young shoots are up to nine times denser in nutrients, antioxidants and polyphenols, than their older, larger plants, making them not only very tasty but also bursting with health benefits. 
What makes Mircogreens so good for me?

All Microgreens contain Beta carotene from which the body makes vitamin A, Carotenoids – lutein and zeathanthin, Vitamin C, Vitamin K, Calcium, Polyphenols (formerly called Antioxidants). In addition to the nutrients listed above, each Microgreen has a good source of other nutrients available in our health benefits section.
How do I use Microgreens?

You can add them to salads, smoothies, sprinkle them over soups, stir them into stews and add them to stir-fries, curries, risottos, pasta bakes and casseroles – the sky's the limit!
Can I grow Microgreens without a garden?

Microgreens are incredibly easy to grow, even for the least green-fingered of people! Whether you live in a studio apartment or a sprawling mansion, you only need a small space to place your kitchen windowsill garden. There's no need to worry about seasons – these little wonders grow all year round!
I am a serial plant killer - how do I know this will work for me?

We've converted thousands of plant killers into successful growers! Sharing our knowledge from urban farming we have created inclusive fool proof instructions and also have videos available that you can access should you need extra guidance.
Can I grow Microgreens all year round?

Yes! That is one of the many benefits of microgreens. They can be grown on your windowsill or any shelf inside your home all year round. 
Which kit do you recommend for beginners?

Our Micrology Kits are great to begin with if you're not sure about long term growing just yet. However if you are looking at making a commited goal to adding more nutrition to you daily diet we would always suggest our Microfarm kits. These have been designed so you can grow on rotation, planting 3 of the 6 bamboo trays included in your kit first, once you bring them into the light around day 3 you can then plant the next 3 bamboo trays included in your Microfarm kit. Then once you have used all the seeds and coir you can replenish with more seeds and coir as often as you like!
How long do seeds keep before I use them?

For best results sow the seeds soon after getting them – why wait? However, if you store the seeds in a cool dry place and they are not damp then they will stay viable for a long time. In 2005 seeds known to be 2000 years old, from a Judean date palm, excavated in Israel, germinated!
What's the true value of your kits?

Our micrology single tin grow kits come with around 3,000 organic seeds, organic growing medium coir, inclusive instructions and a wooden measuring spoon, all hand-packed into a British manufactured steel tin for you to grow your own Microgreens in. Our larger kits come with 6 reusable bamboo trays and 3 re-usable tins, containing 18,000 seeds in total. When previously operating as an urban farm we would retail our fresh Microgreen Punnets for £3.50 per 30g. Think of Microgreens being one of the best supplements you can add to your daily diet! All our kits are replenish-able plus we offer you support and guidance at every step with access to video tutorials. You won't find fresher or tastier greens than if you were to grow your own!
Isn't it just cress?

Confusingly, the term 'cress' also has a second meaning. Once a sprout grows its first leaves, it becomes a cress. Microgreens are harvested when they have developed their first set of leaves which are called cotyledons. Depending on the Kit you choose we have over 16 varieties of Microgreens available.
What are your shipping details?

We ship our products direct from our HQ on Tuesdays & Thursdays with Royal. We offer free shipping on orders over £50. 
Do you export outside of the UK?

Unfortunately due to our Defra licensing we can't export outside of the UK. It's something we'd love to do in the future.
Our partners
Proud to be stocked with some great brands and great partners that share our ethos.