🍃 GREENS FOR A YEAR - A BESPOKE SERVICE 🍃
Your health is priceless so invest in yours by growing your own supergreens with us!
Our Microgreen Mastery 'Greens for a Year' is a whole EXPERIENCE - not just a kit!!
Tailored support to get you growing, in any space you have (yes - even without a garden!) - so you can feel healthy, happy & empowered!
This is a BESPOKE VIP offering - you choose your bundle, with or without guidance from us, then we hand-make your product before sending to you.
You are welcomed into the Teeny Greeny wonderland of microgreens and all things magical!
TeenyGreeny's&nbsp
Seasonal Bundles
HOW IT WORKS
1
YOU CHOOSE
A bespoke offering.
Choice of a Microfarm kit plus enough refills to last the whole year!
Includes limited edition seeds not available in any of our other kits.
You will be sent a form once you place your order and we can help you choose if you want to grow greens specifically to aid with health concerns or taylored just for your taste preferences!
2
WE MAKE
These kits are hand selected and made just for you. Once you have made you choice, with or without our guidance we hand-make your kit making sure you have everything you need to get growing.
3
WE DELIVER STRAIGHT TO YOU
Once your kit has been created, we pack safely and deliver as whole
special bundle for your year ahead of delicious and fresh greens!
4
COMPLETE IN-DEPTH TUTROIALS
Access over 150 bite-size video tutorials that form a comprehensive step-by-step guide to get you growing delicious & nutritious microgreens. Expert personal advice at each stage provides guidance from day one to harvest day and beyond. It's the ultimate way to learn how to grow Microgreens at your pace. (Hosted on-line on a special platform for 24/7 access)
5
SUCCESSFUL GROWING
Fresh home-grown supergreens grown at home in minimal space ALL year round. No risking the supermarkets or food shortages. Feel empowerd that you can grow you own, you never know - one healthy habit often leads to more healthy habits which over time creates big changes!
6
FEEL HEALTHY & EMPOWERED
Let's get growing and create a healthy lasting mindset, a positive uplifting new interest, and of course delicious nutritious Teeny Greenies you can share with your loved ones.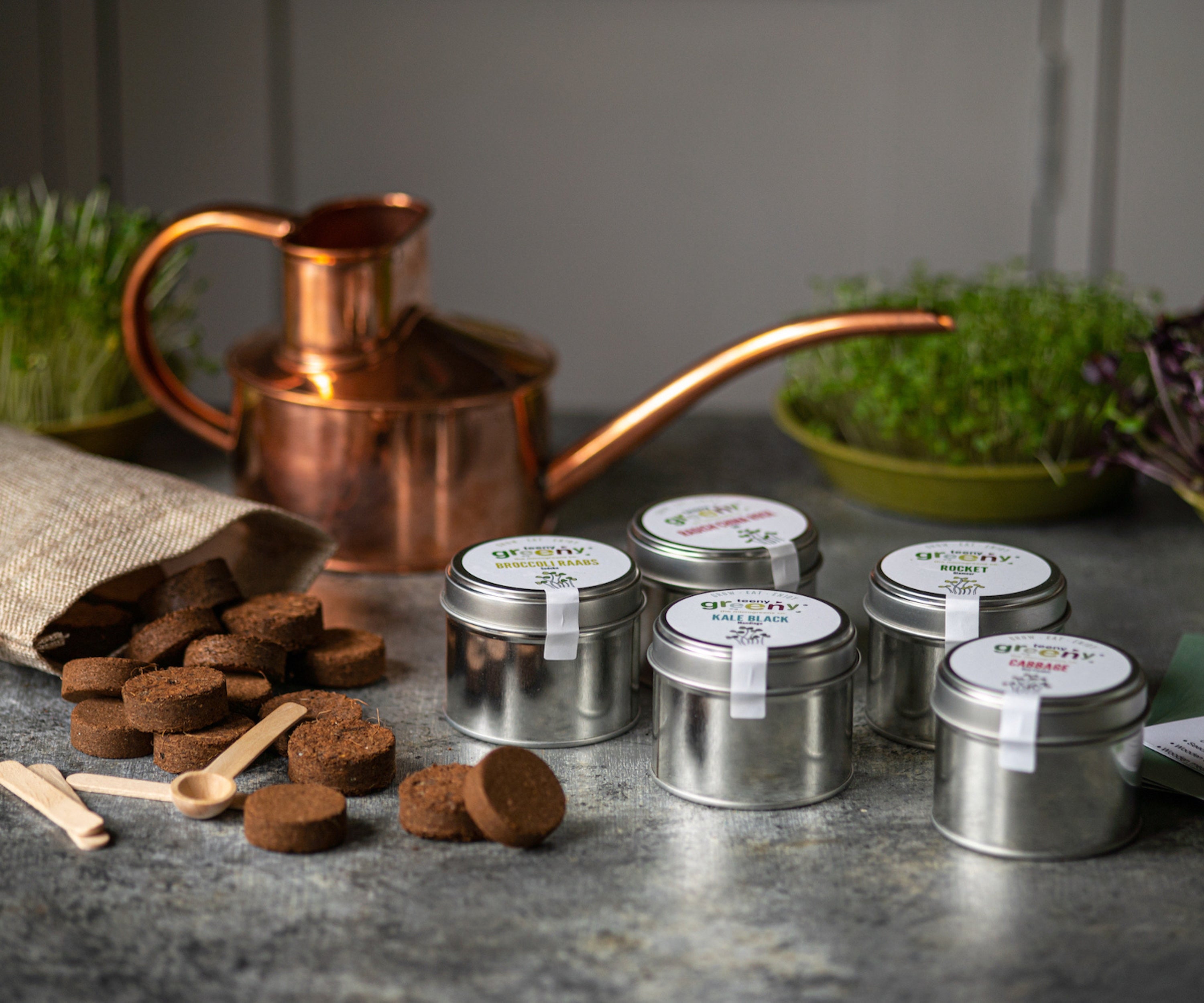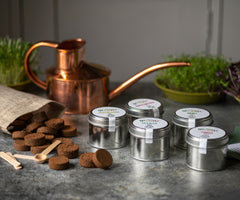 Grow and eat 12 large pots of Microgreens with this unique eco-gift set.
(or even 24+ if you let them re-grow after their first harvest!!)
A snazzy looking introduction to Microgreens, available sets of 3, 5 versions available.
An unusual 'Secret Santa gift' for anyone.
Trio Sets - give as a set or split for 3 individual gifts!
Greens For A Year
Out of stock
'Greens for a Year" is a bespoke VIP service.
.
We are 1% for the Planet Members which means we donate 1% of all our sales back to the planet and to make sure you're involved too we have partnered with twio to add purpose to your shopping experience.
For every purchase, we'll be donating 1% of the total price to your cause of choice, at no cost to you.
The root of this experience....
Hello and welcome to my wonderland of Microgreens - whilst connecting and growing all year round!
I'm Alice, as the creative behind Teeny Greeny and I've been on a crusade to make growing Microgreens at home as easy as possible for everyone - If I can grow these teeny but mighty greens - then so can you!
"Greens for a Year" is a product that same from a passion to offer exceptional value whilst making conscious connections in the world as we now know it.
Offering this means there is zero waste - you get exactly what you want and become a master of the Microgreens!
This works for us, our planet and I know it will work for you too.
So let's start sowing the seeds and grow a greener future together.
Alice
(Grower, Owner & Founder at Teeny Greeny)
ETHICS & SUSTAINABILITY
As the owner and founder of Teeny Greeny, I am committed to working with people and companies who align with my own beliefs. We believe in responsible decision-making and do our best to operate in an ethical and sustainable fashion. We have a commitment to fair trade and try to source local produce whenever possible and our products are always 100% Plastic Free.
100% Plastic Free
The Teeny Greeny Dream Team have gone above and beyond to make sure all of our products make as little impact on the planet, its a small effort for a big cause.
100% Organic
Soil Association accredited: the primary charity and organic certification body. We are proud and privileged to be working with these guys, what they say, goes.
Defra regulated
DEFRA is a government organisation dedicated to protecting the environment. These guys regulate my business, and we are 100% DEFRA-compliant.
1% for the Planet
Teeny Greeny is a member of the 1% for the Planet collective. "The intent of 1% for the Planet is to help fund these diverse environmental organizations so that collectively they can be a more powerful source in solving the world's problems."
I've attempted growing sprouting seeds before with little success. This kit has changed that. I've finally got the right tools to grow my micro greens and I've really enjoyed nurturing them and watching them grow. I think I'm hooked!
Beautifully packaged kit, easy to use. It's great to have the small bamboo trays for growing. Other kits I've seen have large trays which don't work for me at all. The small trays are perfect. Seeds in tins and a scoop to use to sprinkle them makes it so easier to control the number of seeds going into the tray, and avoids the problems of paper packets that split.
Absolutely delighted with my order from Teeny Greeny ... everything you need to grow tasty nutritional micro greens ... quick and easy to grow and plenty of seeds / trays / compost to grow a really good supply of healthy mini greens . Excellent service and very quick delivery. Highly recommend.
TRUSTED BRAND
Our Partners
Proud to be stocked with some great brands and partners that share our ethos.